Hottest Makeup Trends
Every beauty enthusiast knows that each season comes with new and exciting makeup trends, which are accompanied by the latest and greatest beauty products on the market.
There will always be cosmetic products that are must haves all year long, but these products in particular have been made to achieve this summer's most desired look: a youthful and sun-kissed glow.In order to look like you're glowing from within, prep the skin with an illuminating primer rather than a matte one. This will make the skin look 10 times healthier and glowing before even applying foundation.The goal is to use makeup to make the skin look natural and like your own, but better and with enhanced features. If you stumble upon anything that has the word 'illuminating' in its description, add it to your shopping list, including L'Oréal's Magic Lumi Light Infusing Primer.
Glossy Lips

Lashes Galore
Everyone loves a good mascara any day of the year. However, summer makeup trends focus more on emphasizing the lashes without eyeliner to create a more natural but still glamorous look. There's no need for a dramatic winged eyeliner when you're spending the day lounging at the beach. However, a waterproof mascara might come in handy.
Clean up your act
You've probably heard it before. If you want to wake up looking gorgeous, you need to go to bed with a clean face. It is incredibly important to remove all of your makeup at the end of the day, so don't skip your nightly face washing, no matter how tired you are. If you want your lashes to love you back, you've got to get every bit of your mascara off before bed.
Mascara is a heavy load for your lashes to bear. Leaving gunky buildup on them at night can cause delicate little hairs to break. Make sure that you don't just scrub away at your lashes. Use a proper makeup remover. If you are wearing waterproof mascara, use a waterproof mascara remover.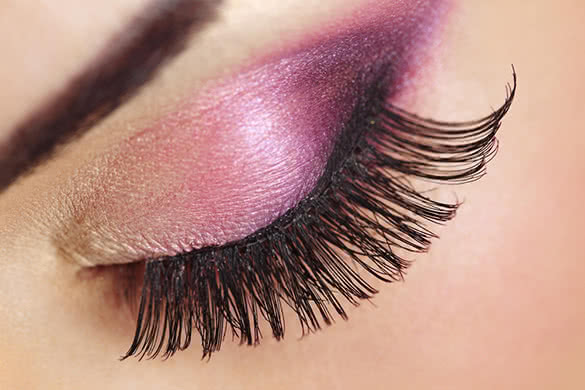 Smokey Eyes
Perform the basics by putting on concealer and primer on your eye area. If you want Smokey Eyes, choose a black kohl pencil which shall be the base of your eye shadow, dark shadows (these aren't limited to black – you can also choose navy blue, dark mauves and purples or chocolate brown, but for this tutorial we're going to stick to black) and false eyelashes.
After applying primer, draw the kohl pencil all over your mobile lid area and slightly above the crease. Smudge it and pat on black eye shadow to further darken the area.
Place some shimmery black eye shadow onto your outer V and extend it to a wing, and underneath the outer portion of your lower lid.
For the crease, a shimmery dark gray shadow is best to form a gradient with the black eye shadow. Blend thoroughly until you can no longer distinguish where both eye shadows colors meet.
Apply black kohl pencil to your lower waterline and tight-line your upper lash line. Curl your lashes and apply falsies, and apply mascara generously.
sources: http://youqueen.com/